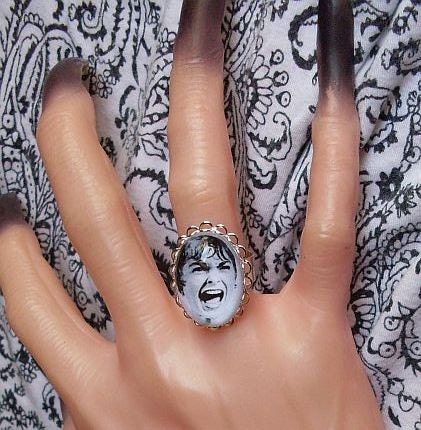 So much to choose from when you open the page to AgonyDecay's Creepy Crafts on Etsy!! From jewelry to spooky soaps and home decor.. AgonysDecay has it all!
What is your favorite horror movie related item in your shop at this very moment and why?
Right now at this very moment it is my Marion Crene ring from the shower scene in Psycho. Physcho is one of the best horror movies of all times. Norman Bates and his mother play a significant role in derranged mental behavior and I adore it. I was asble to disect this iconic film by psychological study in film class one semester. I learned that horror music really 'makes' a movie but also certain scenes to as well. Also, I'm a huge fan of Jamie Lee Curtis for her roles in my FAVORITE horror film of all time, Halloween. If it wasn't for Marion, we'd have no Jamie !! Way to go mother and daughter Halloween queens!!
What is it about horror movies that inspires you and your art?
The death factor, the way that death is represented in both the victim and the villian role. Horror movies are an addiction of mine so whenever I'm creating a horror movie piece its really easy to reference characters. Horror movies provide fear to people. A lot of our fears are irrational and by facing fears in horror movies I believe it helps a person deal with their fears....or it makes their individual fears more fearful.
Why did you join the Etsy Massacre Team?
I was invited to join Etsy Massacre Team. I was more than happy to join since a lot of my work is based on horror movies, or just the feeling and meaning of horror:)