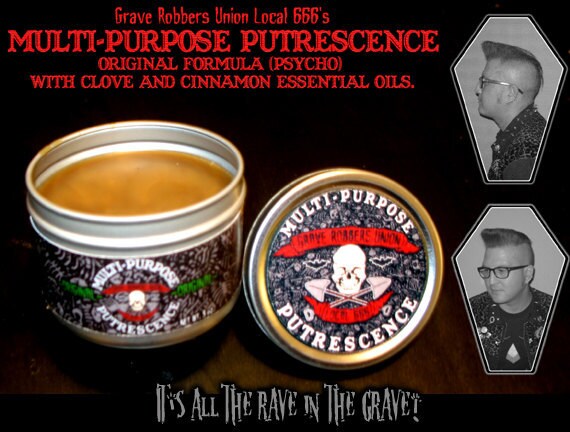 Night on the town? Looking for something to wear in your hair.. or how about some pomade to make it sick! While your at it top off your outfit with a belt buckle and then deck out your car in decals that express your love for horror! Well you can do that all if you shop from grul666, our Etsy Massacre Team - Shop of the month!
What is your favorite horror movie related item in your shop at this very moment and why?
I'd have to say it's our Multi-Purpose Putrescence! It's not really horror-movie related, but it is horror inspired. I had actually been working on it for the past 6 years or so, but with alcoholism taking over much of my life at the time it never came to fruition. I'm happy to say that I am sober now and have put alcohol behind me. I had been using dax wave and groom for the longest time but living in so-cal the weather would melt my quiff. So i figured, I can make one better! and I did, I am absolutely proud of it and I use it every damn day! I'm like Cy Sperling for Putrescence Pomade, "I'm not only the creator, I'm also a client!" Ha-Ha!

What is it about horror movies that inspires you and your art??Wow, I have to thank my grandma for that! She's been dead for 10 years. But it was her, I remember this one time she took me to go see Return of the Living Dead 2 in Glendale when I was about 9 (I had actually chosen that over a bike for my b-day!). We'd always go Downtown to the beautiful old theaters like the Orpheum, the State and the Los Angeles and check out the triple features. I remember we'd get there at around noon and leave at around 6pm! Those were the days! Triple features of horror movies in a classic theater! There's something about horror that has always kept me inspired, like "What if that monster under the bed were real? Would it eat me like a Critter, or be friends? like Maurice from Little Monsters" I remember being in the 3rd grade and drawing pictures of Freddy Krueger with the words "Burn to read" back when the whole "reading is fun-damental" campaign was going on. I've always been a horror nerd, I loved freddy/jason when I was a kid. I guess, it's the whole not knowing, like in real life, you can't depend on there being another day. Life is beautiful, it's a wonderous gift that should be cherished and lived to the fullest. Seeing all those people die sometimes senseless deaths makes you appreciate the things you have (or don't have) even more. Plus, you know it's not real (my mom told me that when we went to go see a re-release of TCM when I was 4!), that's how it inspires me personally. In my art, I just think death/horror is a really big part of life. It's always there, omnipresent. Your never gonna get away from it so why not embrace it? Plus, horror is really cool:) Just keep telling yourself...It's only a movie...It's only a movie...



Why did you join the Etsy Massacre Team?

I really liked the context of the group and the other members seemed pretty cool (and they are!). I really like the idea of other sellers with similar interests coming together as a team. Especially when it's horror related! Now, all we need to do is rent a real store-front and sell our stuff there! I think it should be called "From hell"! I think if we can decide on a place we can all pool our resources together and make this happen! Complete world abomination!