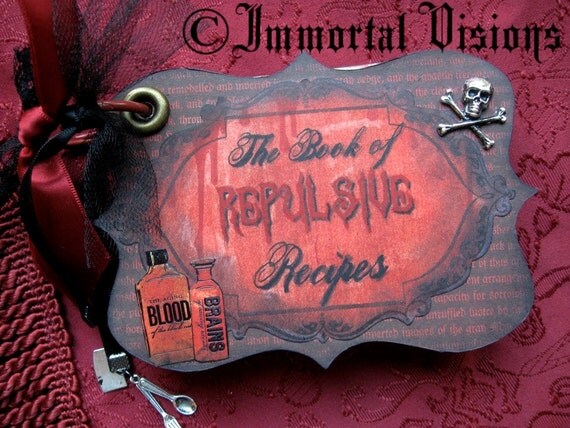 Looking for a unique gift or card to give to that special ghoul this holiday season? Well look no further as our Etsy Massacre Shop of the month,
ImmortalVisions
has everything your little gothic heart desires!
What is your favorite horror movie related item in your shop at this very moment and why?
My favorite horror item right now is my made to order recipe book. It's so bizarre, makes no sense at all, but seems to appeal to people with a dark sense of humor anyway. They are so fun to make and would make a great gift with recipes included inside.
What is it about horror movies that inspires you and your art?
Horror movies have always inspired me in some way. I was just your normal card and scrapbook maker until I tried to "darken" my Christmas cards one year and could find nothing to use for supplies. I had to do a lot of design research and gather of offbeat elements to accomplish it. I realized there may be others out in the world with the same problem and geared my work toward old gothic horror, inspired by Hammer films sets and old school monster movies.
Why did you join the Etsy Massacre Team?
I joined the Etsy Massacre Team in hops of finding like minded artists. It's kind of lonely out here in Weirdo Land and it's so great to discover others with the same tastes!